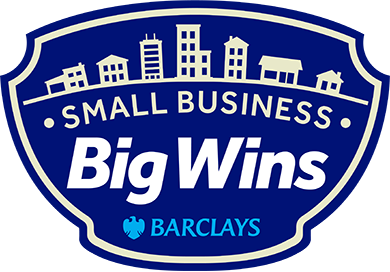 Frequently Asked Questions
What are the dates of the Promotion?
The Barclays Small Business Big Wins Contest begins at 12:00:00 a.m. Eastern Time (ET) on January 11, 2023. All entries must be submitted by 11:59:59 p.m. ET on February 28, 2023. See the Timing Chart in the Official Rules for more details.
Who can enter?
Promotion is open to Small Businesses owned by a legal resident of the fifty (50) United States including the District of Columbia, and who are at least eighteen (18) years of age; current business must be currently open and in operation/established on January 10, 2022 and must have remained open and in operation at time of entry and if selected as a prize winner at time of award; Entrant must be listed as the business owner (in whole or in part) of the business; have a valid employer identification number or taxpayer identification number; employ less than one hundred (100) employees for the duration of the Contest; and have annual business revenue of five million dollars ($5MM) or less. Additional criteria are outlined in the Eligibility section of the Official Rules.
What do I have to do to enter?
Click "Share Your Story" button or the "Registration" link which both go to the "Register Here" Page and:
(1) Provide the requested registration information;
(2) What's your small business story? Tell us how you're making that dream a reality. What motivates you? How do you make it happen every day? in fewer than five hundred (500) words;
(3) Upload an original photograph that complements your story and further illustrate your ideas/thoughts/emotions;
(4) Read and accept the Official Rules;
(5) Click the "Submit" button.
What are the entry content guidelines?
You must follow the Entry & Photo requirements and guidelines found in the Official Rules, including:

Story must be written in English.
Story must not exceed five hundred (500) words.
Story must be the original work of the Small Business owner.
Story must address and answer the following questions:

o What's your small business story? Tell us how you're making that dream a reality. What motivates you? How do you make it happen every day? by including examples of:

your energy, enthusiasm, creativity &/or passion
the impact on/or Inspiration you have on others &/or your community

Photo submissions must meet the following requirements/guidelines:

Maximum File Size: 10MB.
Photo Formats: .GIF, .JPG or .PNG or HEIC file formats.
Photo must be an original and owned by the Entrant.
Photo quality with a high DPI (300 preferred but not required)

Additional criteria are outlined in the Additional Conditions of Entry section of the Official Rules.
How is the winner determined?
All eligible Entries received will be evaluated by a panel of judges according to the following criteria:

Appropriateness to theme in responding to all of the questions posed (30 points)
Demonstration of energy, enthusiasm, creativity and passion for small businesses (30 points)
Positive impact on/or inspiration to other small business owners &/or community (30 points)
Clear expression of their experience(s) (10 points)

The Top 10 Finalists will be eligible for the final round of public voting to determine the Winners.
Can I enter more than once?
No, there is a limit of 1 entry per Small Business.
What can I win?
Contest Prizes:
One (1) Grand Prize: $60,000 cash.
One (1) 2nd Place Prize: $40,000 cash.
One (1) 3rd Place Prize: $20,000 cash.
Seven (7) Runner-Up Prizes: $5,000 cash each.
Sweepstakes Prizes:
Fifty (50) Prizes: $2,000 cash each.
I am unable to upload my photo.
Make sure that the photo you are submitting is a .GIF, .JPG, .PNG or HEIC file format and not exceeding 10MB. If you have a slow Internet connection, your upload may be timing out due to a large file size. Consider editing your photo to make the file size smaller and try again.
I entered but I don't see my entry in the Gallery. Did you get it?
Entries can take up to 72 hours to be reviewed before posting to the Gallery. If you don't see your entry after that time, please contact us at smallbusiness@mkpromosource.com.
Once I register for the promotion, how will my entry be used?
By entering, except where prohibited by law, each Entrant grants to the Sponsor and their agents and assigns in perpetuity the irrevocable, sub-licensable, absolute right and permission to use, edit, modify, cut, rearrange, add to, delete from, copy, reproduce, translate, separate, dub, adapt, publish, combine with other material, reuse, adapt, and exploit the content of and elements embodied in the Submission in any and all media, including but not limited to paper format, digital and electronic media, computer, audio and audiovisual media (whether now existing or hereafter devised), in any language, throughout the world, and in any manner, for trade, advertising, promotional, commercial, or any other purposes without further review, notice, approval, consideration, or compensation.
Have additional questions?
If you have additional questions, review the Official Rules for all terms and conditions applicable to the Sweepstakes. If you can't find the answer to your question there, please email us at smallbusiness@mkpromosource.com.